Essential workout
clothes for men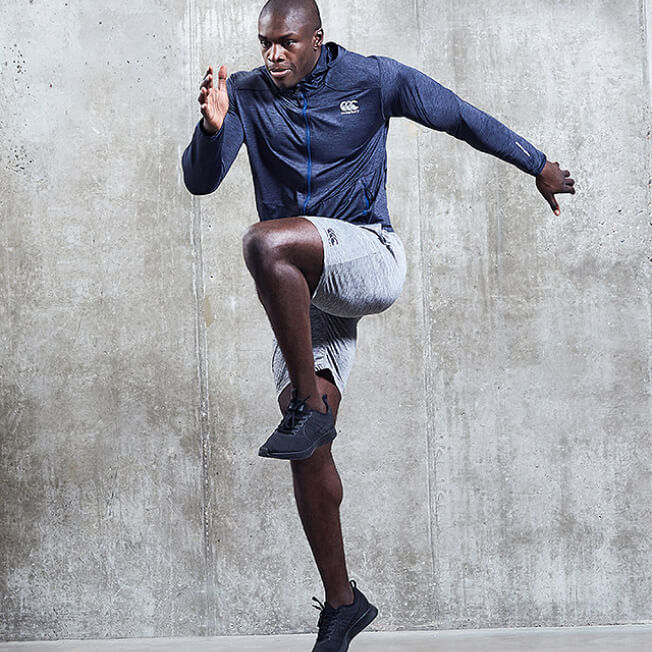 Best training shorts for men
A good pair of training shorts should address both comfort and practicality in their design. Look for a durable fabric such as Polyester/Taslon, but make sure it's also lightweight and breathable to avoid an uncomfortable workout. Ideally it should have an elasticated waist with internal drawcord to ensure a comfortable fit and either side or back pockets to keep your valuables safe while you train.
Leg length is also an important consideration. For working out in the gym, shorts to around mid-thigh are usually preferable, while running shorts normally come in three length options, depending on your body type and personal comfort level.
Canterbury's great range of men's tactic and gym shorts are the perfect example of professional training wear that's designed for a purpose, built for comfort and guaranteed to last.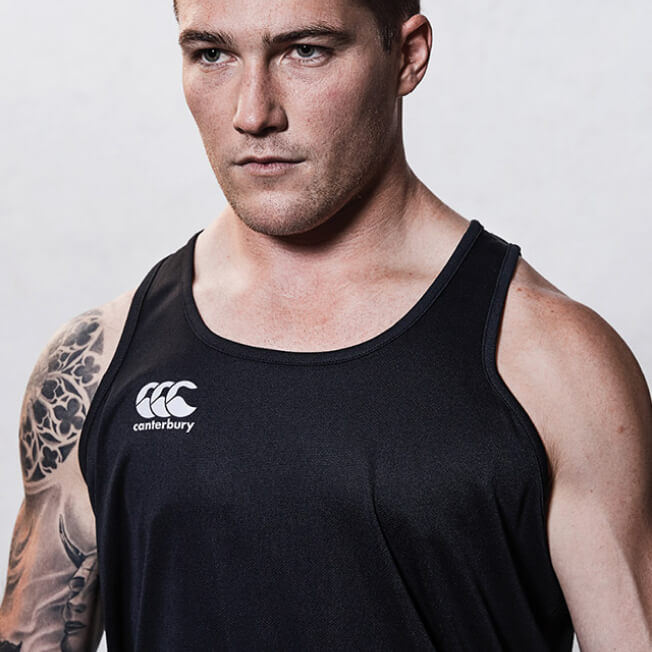 Best training singlets & tees for men
When you're training hard, you need a singlet or tee that fits well, allows you to move freely, keeps you dry and wicks sweat away fast. So look for a lightweight Polyester or Polyester/Cotton blend that lets your upper torso breathe while you're putting it through its paces. Back mesh panels are always a good idea to improve ventilation and ideally you want something with a fabric treatment to wick away sweat from the skin and boost evaporation.
If you're training hard in the gym, good features to have include a low profile collar and back hem drop to prevent riding up while you're stretching. Or if it's just some light on-field team work, a ribbed crew neck tee with contrast piping can add style to any training occasion.
Canterbury's men's singlets & tees have all these features and more, including our patented Vapodri moisture-wicking fabric technology to keep you cooler and drier while you train.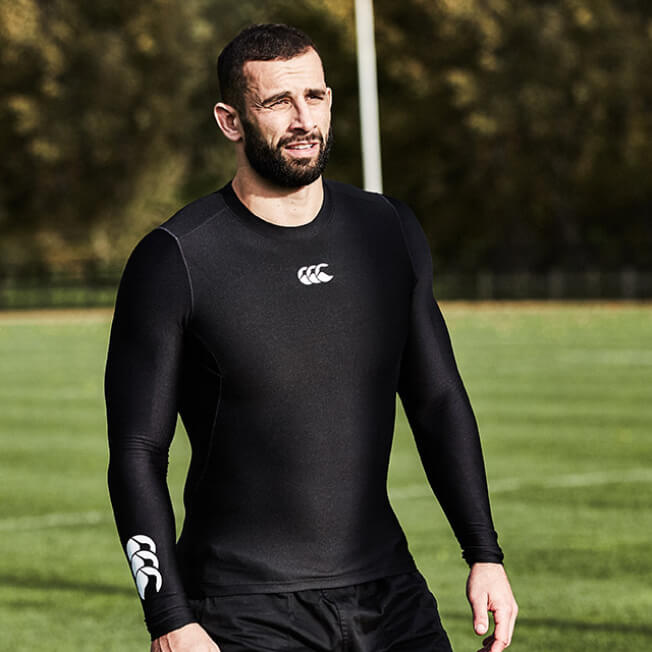 Best baselayer & compression wear for men
Quality compression wear improves blood flow and reduces muscle vibration, which can mean more athletic power and improved performance while training. When choosing compression wear, look for tops and leggings that are well cut and don't have a lot of raised seams, which can contribute to chaffing. They should also have moisture-wicking properties and odour control and if you're working out in winter, temperature regulation is a good idea as well.
Consider your training requirements when choosing baselayer garments. Cold options are designed to keep you warm when the temperature drops, hot options to keep you cool in warmer conditions and pure compression gear is made to improve your performance and speed up recovery.
Canterbury's baselayer & compression range for men features compression tights, compression shorts, compression shirts and compression pants with all of these properties and our Thermoreg tops and leggings are designed specifically for cold weather training.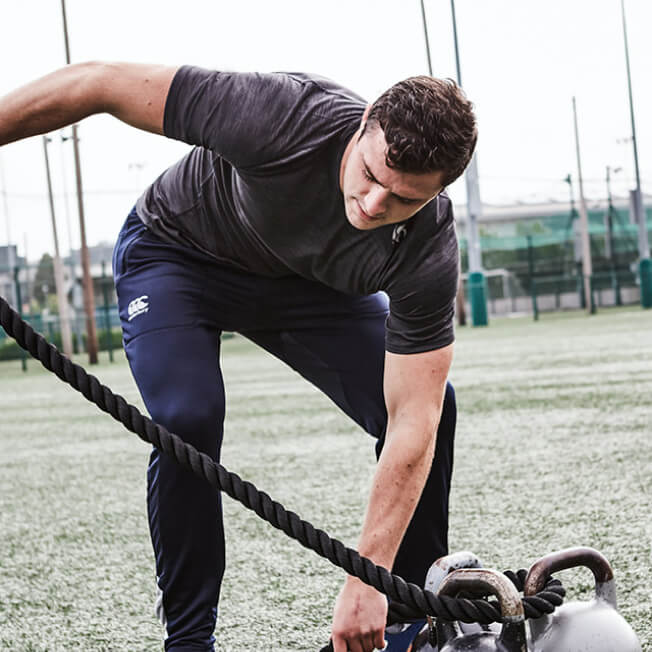 Best training track pants for men
Track pants are designed for training in cooler weather and a good pant will keep you warm when needed as well as cooling you down during intense bouts of exercise. Features include;
Strong, lightweight fabric such as Polyester>
Generous cut to provide a free range of movement
Water-resistant and fast drying for training in wet weather
Moisture-wicking treatment to reduce sweating
Perforated side panels to maximise breathability
Leg zips for easier on and off with footwear.
If you run, look for a pant with an elasticated waist for a comfortable fit and zip pockets to protect your valuables. If you work out in the gym, select a pant with moisture-wicking properties and plenty of freedom of movement.
Designed for superior comfort and movement, Canterbury's extensive range of track pants for men includes our Team Track Pants, Uglies Track Pants, Pro Track Pants, and Stadium Pants, many featuring our Vapodri moisture-wicking and Vaposhield water resistant treatments.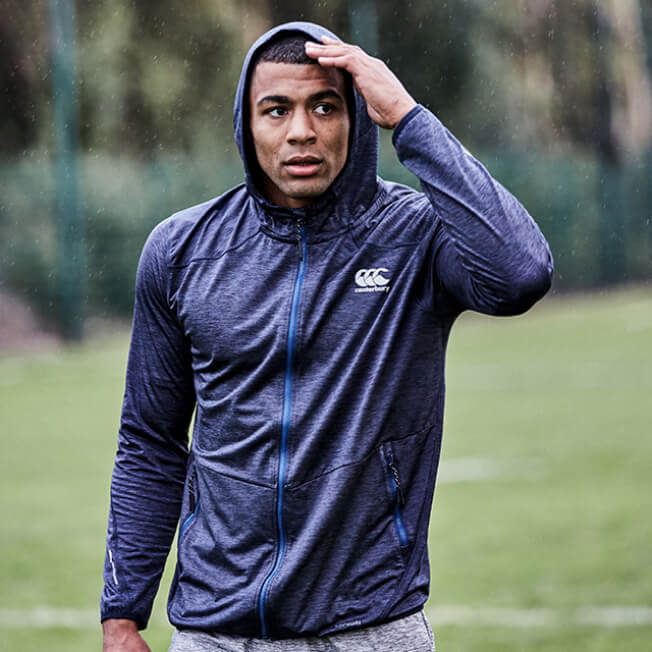 Best training hoodies for men
A hoodie lets you train in colder weather and stay warm and dry while you're doing it, allowing you to regulate your body temperature whether you're warming up or warming down. A quality hoodie can include moisture-wicking abilities to prevent excessive sweating, water repellent technology to keep you dry on the outside and thermal regulation to prevent excessive heat loss between training sessions.
Often constructed from Polyester, a quality hoodie features a partial or full zip for easy off and on, side panel zip pockets or a kangaroo pocket at the front for your valuables and storm cuffs to keep the elements at bay.
Canterbury has a big range of hoodies and jumpers, ideal for cold weather training and many feature our Vapodri moisture-wicking, VaposShield water repelling and Thermoreg temperature regulating technologies.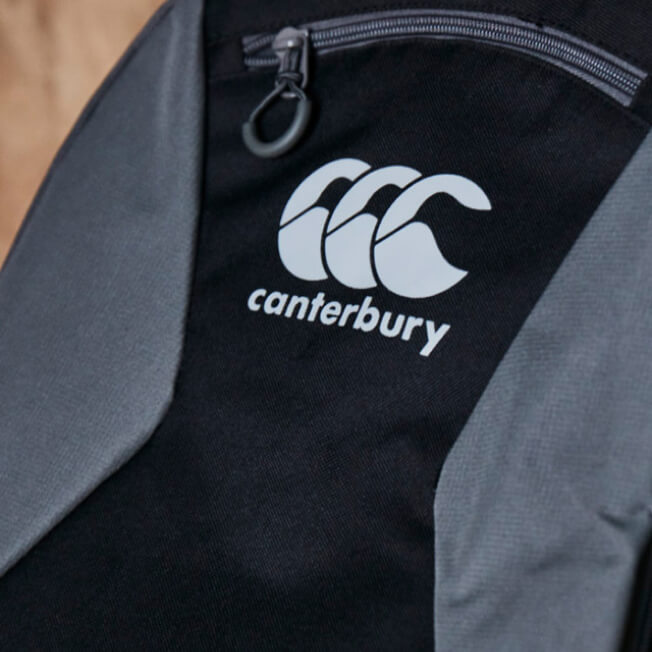 Best training track pants for men
Along with the right clothing, appropriate footwear and a good pair of socks can make a big difference to the quality of your training.
The best socks for running and high intensity workouts are those with temperature regulation features to keep your feet cool and dry and cushioning to minimise impact. The best socks for cycling often possess antibacterial properties to keep your feet clean and prevent blisters. And for field sports such as rugby, moisture management, cushioning, arch support and ventilation are all important properties to look out for.
As far as footwear is concerned, if you're doing weights in the gym, go for shoes that are ideal for squats, with a flat, solid outer sole, durable canvas upper and minimal drop between heel and forefoot. If you're a rugby player, choose a shoe with a wide forefoot and locked in toe box for dynamic, supported movement and plenty of studs for traction on all ground conditions. And if you're into a variety of different training regimes, choose a good pair of cross-trainers, which are light, flexible, supportive, comfortable and ideal for most low impact training sessions.
Canterbury's training essentials range includes socks that provide maximum support, comfort and ventilation, rugby boots that give you that performance edge you're looking for, plus caps, beanies, bags and bottles to complete your training kit.