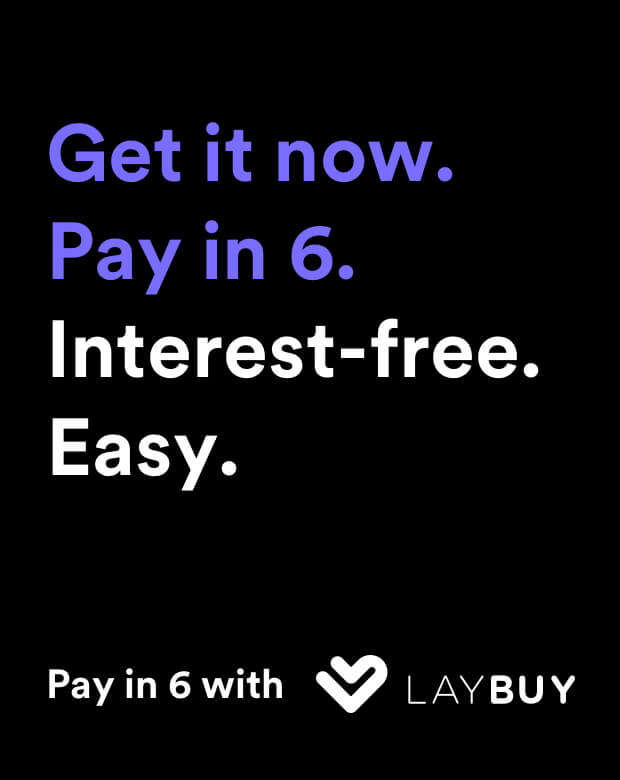 Pay it in 6, interest-free. Easy.
Can't wait until payday? Thanks to Laybuy, you don't have to! Shop your favourite Canterbury products today and pay later in 6 interest free payments.
1. Simply sign up


Signing up is easy. Add your Canterbury products to your basket and select Laybuy as your payment method at checkout.
2. Order your Canterbury
favourites today
Complete your checkout in seconds with an instant approval decision and your order will be delivered straight away.
3. No extras


Secure your purchase today with interest free payment plan and pay for it in 6 equal payments, once a week for 6 weeks.
View orders + make payments anytime.
After your order has been processed, you can log in to your account to view your orders, make payments and manage account details.
Access Laybuy account
Frequently Asked Questions
Laybuy offers buy now and pay over 6 weekly interest-free instalments, so you can purchase your favourite Canterbury products.
Just shop on Canterbury and check out as normal. At checkout, choose Laybuy as your payment method. You will be directed to the Laybuy website to register and provide payment details (Visa/Mastercard). If you've used Laybuy before then you just need to log into your account. Then complete your order and it's that easy.
Please note, that all items in your shopping bag must be eligible for Laybuy.
Laybuy offers online shoppers a simple interest free payment plan that lets you secure your purchase today and pay for it in 6 equal payments, once a week for 6 weeks.

Laybuy performs a credit check to obtain a credit score on all new users upon registration. Once your credit score has been confirmed and your account has been verified, Laybuy assigns your Laybuy limit and you can begin shopping immediately.

You can log in to your Laybuy account anytime to view your payment schedule or make a payment before the next due date.
Laybuy orders are delivered within our standard delivery timeframes like any normal order from Canterbury Australia.
Yes, you can also use a promotional code with Laybuy to pay for your purchase.
If you are signing up in New Zealand or Australia, you will be required to present your valid Drivers License number or Passport number.
If you are signing up in New Zealand, it will need to be a NZ licence or passport.
If you are signing up in Australia, it will need to be an AU licence or passport.
To arrange your return please log into your account, select your order and click the return button where you will be guided through the returns process.
Alternatively, if you are experiencing any issues contact us by logging into your account.
Once you have requested your return you have up to 30 days from the day you received your order to return your items to us. Please return the items in their original packaging, package the items securely and ensure our returns form is included inside. You will need to obtain a proof of postage receipt when you return your items to us,
Any item you have accepted and then returned is your responsibility until it reaches our warehouse.
Please note, that items must be returned in the same condition as received, unworn with original tags attached.
Our returns procedure does not affect your statutory rights.
Canterbury products purchased at a retail store or from other websites must be returned to the original store or site from which they were purchased.
Further info about Laybuy, late fees, edibility criteria and more can be found by checking out the dedicated Laybuy help page. You can also reach out to one of our friendly customer service teams, here.